It's a regular chowk, a busy intersection where passers-by flag auto rickshaws or mill around halwai shops, vegetable vendors and garment stores. Three weeks ago, this chowk in Block 27 of East Delhi's Trilokpuri was anything but regular. The streets were covered with stones, bricks and bottles, the shops were closed and people either shut themselves inside their homes or sought each other's blood in the open. But one presence has lingered on since then — uniformed men camping at the chowk and patrolling its streets. Mahesh Chand, a head constable with the Delhi Police, has been on duty at the Block 27 chowk since November 6, "ensuring no communal incident takes place".
Chand, 53, works with the Preet Vihar police station, while Trilokpuri falls under the jurisdiction of Mayur Vihar Phase-1 thana. But on Diwali night of October 23, as communal tension spiralled out of control in Trilokpuri, Chand, like policemen from other posts in East Delhi, was called in. "I was asked to report on October 24. I searched three-four houses and recovered some weapons. It was tough," he says.
But today, Chand thinks his job is "anything but tough". From 8 am to 8 pm every day, he sits on a plastic chair at the small police chowki in one corner of the chowk. In between, he patrols the block to make sure there is no trouble, or to "simply kill time". Prohibitory orders are still in place in some blocks of Trilokpuri and Chand's brief is simple: to ensure not more than four people gather anywhere, and to spot potential trouble-makers. "If someone is using abusive language or is drunk, we keep an eye on him," says Chand. He has also asked RWAs and shopkeepers to tip him off if needed. "Any conflict, even if it is not communal, can spark off a riot. If two vehicles collide, there is a danger that if one driver is Hindu and the other Muslim, things can turn ugly," he says.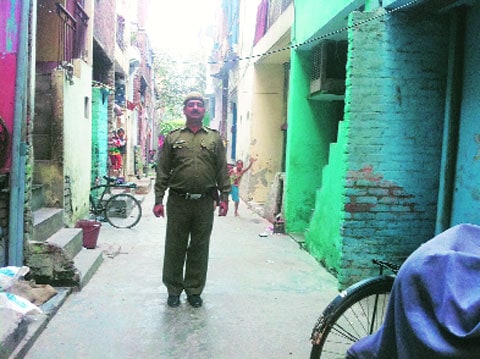 Besides Chand, two other constables, a havildar and an additional sub-inspector are posted at the chowk. The camp, in police parlance, is a "point", a potential trouble spot. The police have identified eight such points across the eight blocks in Trilokpuri, each manned by five cops, drawn from 16 police stations in East Delhi.
Block 27 was the worst hit in the October 23-26 riots, which followed the alleged desecration of a Mata ki Chowki that had come up a few metres away from a mosque.
Around 11.30 am on Wednesday, Chand and his colleagues sit on their chairs, guns in position, eyes set on the streets. But as life goes on normally, they fiddle around with their cellphones or just chat with each other or with shopkeepers. "We drink several cups of tea to be alert," he says.

A woman carrying a gunny sack comes to Chand and asks if she can fill it with some sugar strewn on the road. A bored Chand is glad to have finally found some amusement. "That sugar is useless. It is all mixed with dust and tar!" he laughs.
At 12.30 pm, he gets up, straightens his back, and patrols "his area" — a few hundred metres near the chowk, past the Trilokpuri bus terminal, meat and chicken stalls, and a charred garment store that was burnt down by rioters, and piles of bricks.
Shouldn't he ask for the bricks to be removed? "These are for construction. We don't worry about the bricks anymore. Everything is normal now. We wish we can resume our normal duties," he says
Residents, however, feel otherwise. "We feel sorry for the policemen, they sit here all day and night to protect us. I offer a cot to those on the night shift. But if they go away, we won't feel safe," says a Hindu woman who lives close to where it all began — near the spot where the Mata ki Chowki once stood, which is now marked out by a row of potted plants.

"We don't trust the police. They took away our men, beat up our women, and now they are here to protect us!" says a Muslim woman who runs a snack kiosk in the lane leading up to the mosque in Block 20, a few hundred metres away from Block 27.
Across the road is another "point" manned by policemen of New Ashok Nagar Police Station. Sitting with his team on a charpoy and surrounded by vegetable vendors squatting on the ground is additional sub-inspector Krishan Pal. He says Trilokpuri is "nothing" compared to Daryaganj, where he was posted in 1992. "That was immediately after the Babri Masjid was demolished and the whole nation was tense.
We had to ensure the streets were empty," says 49-year-old Pal who has been deployed at Block 20 since November 11. Had it not been for subsequent communal incidents in Bawana and Babarpur areas, Pal feels, "prohibitory orders would have been lifted from Trilokpuri by now".
Below his charpoy is his helmet and vest that are meant to be worn in case of a riot. But things "are so normal now" that he walks into the lane leading up to the mosque without his gun. "Police uncle" call out some children playing badminton with plastic racquets. He spots a gathering near the mosque — a journalist is interviewing some people. He, however, doesn't ask the crowd to disperse. He simply looks around for potential trouble-makers. "If I see someone avoiding the gaze of the police or the public, I frisk him, or take him to the police station," he says.
Around 2 pm, he is back to his charpoy with his team. "A vegetable hawker gave us this cot. Without public support, our job would have been difficult," he says. Pal soon leaves for a court hearing. "Every post has a team of five, but sometimes some of us have other tasks to attend to," he says before leaving. The constables with him continue to kill time. One takes off his shoes and changes into a casual shirt. He sinks back into his chair, watching a customer argue with a garlic vendor. "Koi baat nahin, thoda aur daal do (It's okay, just give him some more)," he says. An hour later, ITBP personnel, also on patrolling duty, join the constables for another round of tea.
Back at Block 27, Chand is alone at his point. A car stops at the post and Additional DCP (East) Pushpender Kumar steps out. Chand stands at attention, the constables rush back from their patrols. A shoemaker who sits under a tree is called. He's made shoes for the senior officer. He tries them on, pays the shoemaker and drives away.

"The DCP was on duty during the riots when he met the shoemaker. We do develop a bond with the people we protect, even if it's only fleeting," says Chand.